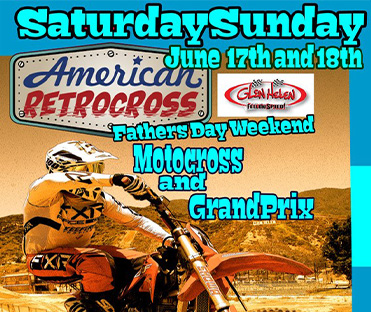 Glen Helen Raceway
Glen Helen Arroyo Track
MX on Saturday(Points paying classes)
GP on Sunday (Points paying classes below)
Grand Prix Classes
Race 1- Vintage (Pre-75) 30 min. + 1 lap
Pre-75- 40-/40+/50+/60+/70+
Youth (14-/80cc+ )
Women
Race 2- Evo 45 min. + 1 lap
All Evo- 40-/40+/50+/60+/70+
Race 3- Decade/Modern 45 min. + 1 lap
Dec. & Mod. 40-/40+/50+/60+/70+
Race 4- Father & Son 30 min. + 1 lap
Pre-75/EVO/Decade/Modern
Note:
Father & Son class rules
1.) You don't have to be related but there must be a minimum of 25 yr difference in age.
2.) One bike or two? If two they both need to be of the same category (Vintage, Evo or Modern).
3.) Change riders every lap
4.) No rider ability level distinction.
5.) 125cc min.